THE PEANUT BUTTER FALCON tells the story of Zak (Zack Gottsagen), a young man with Down syndrome, who runs away from a residential nursing home to follow his dream of attending the professional wrestling school of his idol, The Salt Water Redneck (Thomas Haden Church). A strange turn of events pairs him on the road with Tyler (Shia LaBeouf), a small time outlaw on the run, who becomes Zak's unlikely coach and ally. Together they wind through deltas, elude capture, drink whisky, find God, catch fish, and convince Eleanor (Dakota Johnson), a kind nursing home employee charged with Zak's return, to join them on their journey.
MY REVIEW
I'm a sucker for movies that are feel-good and warm hearted and that's exactly what happened when I got to watch The Peanut Butter Falcon. I absolutely loved this story. How two different people can come together and help one another for the better.
Zak is a young man with Down syndrome who lives in a nursing home. He wants to become a wrestler. So much that he wears out the VHS tape he has of his favorite wrestler and makes the decision that he wants to attend the wrestling school that his idol, The Salt Water Rednek, attended. After running away from the nursing home he runs into Tyler. Tyler is a bit of an outlaw and is running away from people who want to see him dead. He ends up helping Zak by being his coach and the two form a great friendship.
As the two set off on this adventure, we watch as their friendship starts to bond. The chemistry between both actors is amazing, which makes the movie even more entertaining to watch. They eventually run into Eleanor, an employee from the nursing home Zak ran away from and who is trying to get him back there, but is convinced by both Tyler and Zak to let him see his mission through.
From start to finish this was a beautiful movie. They did an amazing job capturing the countryside scenes and I loved the friendship between both main characters and how determined Zak was to make his dreams happen. I laughed, I cried, I smiled the entire time. Definitely a movie that is worth watching.
The Peanut Butter Falcon is now available on digital blu-ray and DVD. Although Halloween is now over, below is a DIY project that you can create with your kiddos to create a DIY Peanut Butter Falcon Costume!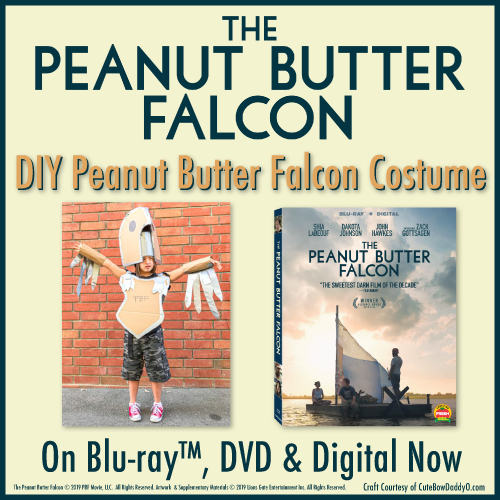 Disclosure: All opinions are my own. I received The Peanut Butter Falcon on blu-ray at no cost for the purpose of this review. No other compensation was received.