Get ready to dive into five swim-sational episodes packed with fun-filled sports and games as the Bubble Guppies take part in the Summer Camp Games, the Super Ballet Bowl, the royally awesome Glitter Games, and more!
Bubble Guppies: The Great Guppy Games! episodes:
The Summer Camp Games!
The Super Ballet Bowl!
The Elephant Trunk-A-Dunk!
Puddleball!
The Glitter Games!
MY REVIEW
My five year old has been watching Bubble Guppies for years now, so when she saw the DVD get delivered to our home she was super excited to watch The Great Guppy Games. Filled with her favorite school of fish, Molly, Gil, Deema, Oona, Nonny and Goby along with Mr. Grouper and other ocean friends, we got to see them in five awesome episodes. Filled with our favorite catchy songs and loads of swim-tastic adventure, your little one will defnitely enjoy this fun-filled DVD.
We hadn't watched Bubble Guppies in so long and now, it's been played a few times the last couple of days and my five year old even brought out all of her Bubble Guppies stuffies so that she can watch the episides while hanging out with her favorite characters!
Bubble Guppies: The Great Guppy Games is now out on DVD for your to watch at home and I'm excited to team up with Paramount Pictures to give one of our Canadian readers a chance at winning this DVD for your home. All you need to do is comment below your child's favorite character.
Also, please enjoy these awesome Bubble Guppies alphabet tracing pages for your little one. Maybe even have them work on the activity sheet while watching an episode of Bubble Guppies!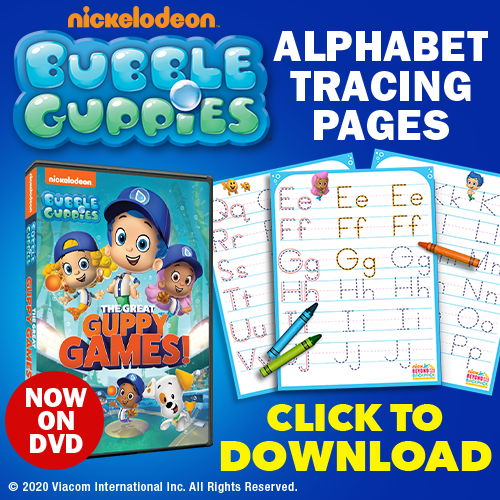 Disclosure: All opinions are my own. I received The Great Guppy DVD at no cost for the purpose of this review. No other compensation was received.