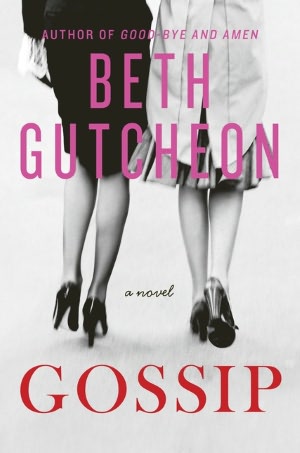 Publisher: William Morrow
Publication Date: March 20, 2012
"Did you know that the origin of the word gossip in English is 'god-sibling'? It's the talk between people who are godparents to the same child, people who have a legitimate loving interest in the person they talk about. It's talk that weaves a net of support and connection beneath the people you want to protect."Loviah "Lovie" French owns a small, high-end dress shop on Manhattan's Upper East Side. Renowned for her taste and discretion, Lovie is the one to whom certain women turn when they need "just the thing" for major life events—baptisms and balls, weddings and funerals—or when they just want to dish in the dressing room. Among the people who depend on Lovie's confidence are her two best friends since boarding school: Dinah Wainwright and Avis Metcalf.
Outspoken and brimming with confidence, Dinah made a name for herself as a columnist covering the doings of New York's wealthiest and most fabulous. Shy, proper Avis, in many ways Dinah's opposite, rose to prominence in the art world with her quiet manners, hard work, and precise judgment. Despite the deep affection they both feel for Lovie, they have been more or less allergic to each other since a minor incident decades earlier that has been remembered and resented with what will prove to be unimaginable consequences.
These uneasy acquaintances become unwillingly bound to each other when Dinah's favorite son and Avis's only daughter fall in love and marry. On the surface, Nick and Grace are the perfect match—a playful, romantic, buoyant, and beautiful pair. But their commitment will be strained by time and change: career setbacks, reckless choices, the birth of a child, jealousies, and rumor. At the center of their orbit is Lovie, who knows everyone's secrets and manages them as wisely as she can. Which is not wisely enough, as things turn out—a fact that will have a shattering effect on all their lives.
This book started out slowly and it did take me a little while to get attached to the characters. Near the middle of the book, when the storyline picked up a bit, I did find myself entrenched in the lives of each character.
There was a view of high society and, yes, scandal but the end was truly shocking. It may have started slow but it won me over in the end. I have to recommend this book as a good read.
Disclosure:
All opinions are my own. I received Gossip at no cost for the purpose of this review. No other compensation was received.