Everyone's favourite Bikini Bottom buddies bubble up in the Complete Twelfth Season of SpongeBob SquarePants! See what happens when SpongeBob and Patrick work on Old Man Jenkins' farm for a day! Don't miss Sandy narrating Gary's nocturnal adventures (and discover the identity of his secret pal). Then Patrick learns something totally new about his own home sweet rock. Plus - why did Patrick get a new job? (For free ice cream. Duh!) And prepare yourself as SpongeBob explores the dreams of his sleeping neighbours. All this and MORE nautical nonsense await within!
MY REVIEW
Are You Ready Kids? This time we're reviewing season 12 of the children's classic television show, Spongebob Squarepants! For the few of you who may not be familiar, Spongebob is a quirky yellow sponge that lives at the bottom of the sea along with his friends Patrick, Squidward, Sandy, and many more.
This review was special to our family because Spongebob has been around for so many years. My hubby and I watched episodes when we were younger. To pass such a great memory along and share it with our son was super exciting for us! Spongebob is a great go-to for any family with little ones of all ages. It has engaging sounds and songs for the younger kids, along with jokes and adventures for the older kids, and as parents that watched the show growing up, it had some nostalgic laughs for us as well. Spongebob is a well-rounded show that has never failed to bring some laughter and excitement into our day.
We would strongly recommend this season along with all other seasons of Spongebob Squarepants to families of all ages. It's a great way to spend the day when you're feeling cozy or to cool down after a long day. Season 12 is now available on DVD to purchase. For more information on how and where to purchase, be sure to head to
Paramount Home Pictures
.
Get ready to join SpongeBob with this tasty popcorn recipe and adorable popcorn boxes designed to look like each of your favorite characters! SPONGEBOB SQUAREPANTS: THE COMPLETE TWELFTH SEASON is now available on DVD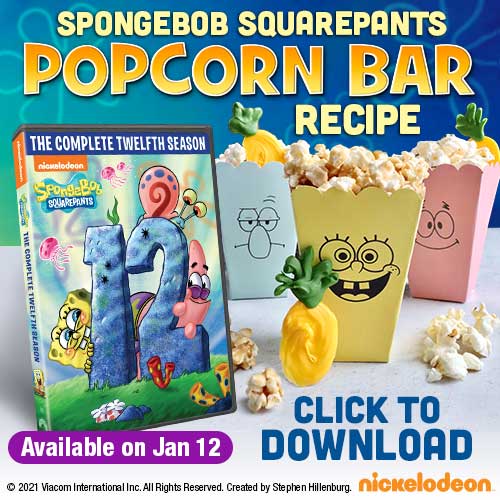 We're excited to team up with Paramount Home Pictures to bring one lucky reader a chance to win the complete 12th season on DVD. To enter, comment below sharing your or your child/s favorite character from the show.
Disclosure: All opinions are my own. I received Spongebob Squarepants: The Complete Twelfth Season on DVD at no cost for the purpose of this post. No other compensation was received.