Nickelodeon's hit interactive preschool series Blue's Clues & You! will skidoo onto DVD, featuring four exciting episodes from the show's debut season. The series follows beloved puppy Blue and live-action host Josh (Josh Dela Cruz) as they invite a new generation of preschoolers on clue-led adventures and solve a puzzle in each episode.
In the Blue's Clues & You! DVD collection, fans can help Josh solve games of Blue's Clues as he tries to figure out what Blue wants for a snack, what present she wants for her birthday, what she would like to do on her playdate and more. The DVD will also include special episodes from Josh & Blue's VLOG and eight bonus American Sign Language flashcards. Blue's Clues & You! is now available from Nickelodeon and Paramount Home Entertainment exclusively at Walmart.
MY REVIEW
If you are looking for an educational, colorful and musical TV show for your little one to watch, I highly recommend Blues Clues & You! This show always lights up my Braxton's face as soon as he hears the thems song he is dancing and ready to solve Blues questions! (Check out
Instagram
stories for my little guy's reaction to the theme song, super cute!)
Whether they're counting oranges on trees or mixing different colors, it's always something new with Blue and it really does leave the problem solving up to your little one, allowing them to start thinking outside the box and getting them excited for the answer.
We play the Spotify playlist songs to Blues Clues &You throughout the house and we have watched all the episodes... several times. My husband and I actually enjoy watching the show as well! We know all the songs and we get excited to see new episodes just like Braxton does. Sometimes it is on a little later on in the night on Treehouse and we'll even let him stay up a little later to watch new episode. We don't get tired of the show like we do some other kid shows, its so fun, colorful and it makes Braxton dance and he gets so excited, we love that. We absolutley love Blues Clues & You and glad we have the DVD so Braxton can watch over and over again.
A clue! A clue! You can enjoy these tasty cookies while joining beloved puppy Blue and her friend Josh on clue-led adventures! BLUE'S CLUES & YOU is available now on DVD!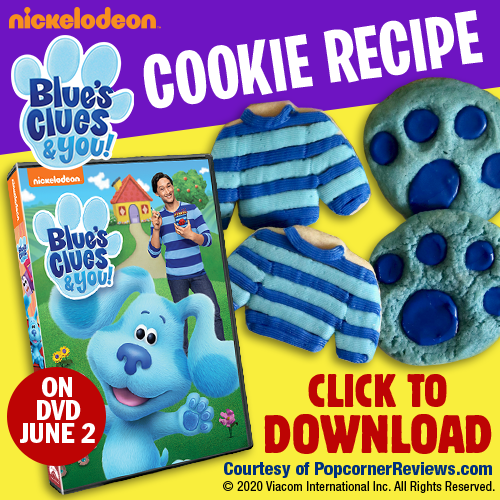 GIVEAWAY
Blues Clues and You is now available on DVD. We've teamed up with our friends over at Paramount Home Enertainment to give one copy of the DVD away to one Canadian reader. Comment below sharing your little ones favorite character from the show Blue's Clues, past and present characters!
Disclosure: All opinions are my own. I received Blues Clue & You on DVD at no cost for the purpose of this review. No other compensation was received.