There's plenty of glitter to go around in the new sparkling DVD collection
Shimmer and Shine: Glitter Magic!
Arriving today, August 4, 2020, preschoolers can join Shimmer and Shine for fun magic-filled adventures as they meet the Glitter Genie, learn Glitter Magic and more. It's time to glitter and glow in these seven sparkling episodes, including a double-length special.
Shimmer and Shine: Glitter Magic! episodes:
All That Glitters
Glitter Glitch
Zahra-glitter Zahra-glow
Samira and Zeta
Volcano Drain-o
Grab That Gem
Crystal Chaos
MY REVIEW
My youngest is such a big fan of the show, Shimmer and Shine. Although she loves both beautiful and colorful genies, her favorite character from the show is Leah. And when we received the latest DVD, Glitter Magic! she was very excited to watch her favorite magical genies and Leah on their glittery filled adventures. The first two episodes are a double-length feature where we are introduced to glitter genie, Afina and her glittery pet, Gleam. Leah, Shimmer and Shine accidently stumble upon Afina's glitter castle while playing a game of i-spy. Not long after we see Zeta and Nazboo flying after them finding the glitter castle too and eavesdropping just as Afina is showing the girls her glitter gem ring and how it creates glittery magic. Zeta and Nazboo steal the ring and take off and the genies, Leah and Afina try to find a way to stop them. A glittery fun filled epsiode and part two is where Afina is teaching Shimmer, Shine and Leah how to use glitter magic. She gives all three glitter gem rings and shows them some tricks to glitter magic by thinking hard, imagine what you want to make and pointing your ring to make it. The girls are loving their lesson and afterwards Shimmer wants to create more and takes all three rings and the magic gets a little out of hand. Both episodes, Bailey absolutely loved. Not only does this come with a double feature, but also with a total of seven episodes for your little one to watch and enjoy just as mine did.
Shimmer and Shine: Glitter Magic! DVD is now available from Paramount Home Entertainment and Nickelodeon Home Entertainment for the suggested retail price of $10.99.
There's glitter galore in these a-MAZE-ing activity sheets, click on the image below to download and print out these glitter filled activity sheets for your kiddos to enjoy!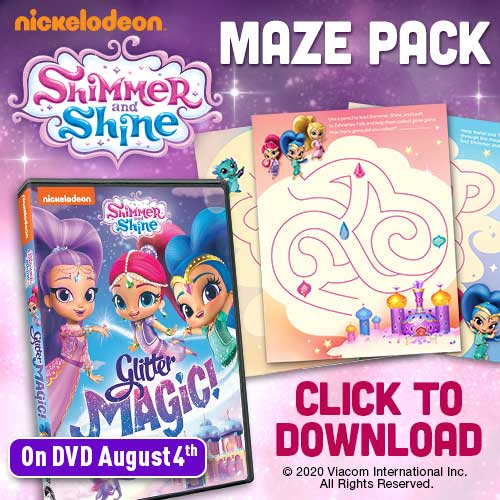 In celebration of the release of Glitter Magic on DVD, we've teamed up with Paramount Home Entertainment and Nickelodeon Home Entertainment to offer one of our Canadian readers a chance at winning a copy of this DVD. All you need to do is comment below your child's fav character from the show!
Disclosure: All opinions are my own. I received the above mentioned title on DVD at no cost for the purpose of this review. No other compensation was received.