Nickelodeon's twin genies-in-training Shimmer and Shine will fly onto DVD in Shimmer and Shine: Magical Mischief, as they battle their nemesis, Zeta the Sorceress. Now on DVD, preschoolers will be taken on eight magical and spellbinding adventures as Zeta continues to cause chaos in Zahramay Falls. Shimmer and Shine: Magical Mischief DVD will be available from Paramount Home Entertainment and Nickelodeon Home Entertainment for the suggested retail price of $10.99.


Shimmer and Shine: Magical Mischief episodes:
Size of the Beholder
Zoomicorn Toss
The Glob
The Silent Treatment
Trick or Treasure
Easy as Pie
Genie for a Day
Samira & Zeta: The Magic Begins
MY REVIEW
Bailey absolutely loves the Nickelodeon show, Shimmer and Shine. On different occasions, she has had their theme song stuck in not only her head but mine as well. When we got a copy of their latest DVD, Magical Mischief, she couldn't wait to watch it with me. In Magical Mischief, Zeta is up to no good again, this time trying to steal Leah's voice and it's up to our two favourite genies to help save the day.
Magical Mischief comes with a total of eight episodes and I'm so excited to team up with our friends from Paramount Home Entertainment to offer our readers (Canada only) a chance at winning a copy. To enter our giveaway comment below your child's favourite character from the show.
Also, with us being in the middle of winter and hot chocolate bombs being the latest winter trend to go around, check out the recipe you can make with your little ones, Hot Chocolate Bombs inspired by your favorite twin genie sisters, click below for the recipe! Shimmer and Shine: Magical Mischief is now available on DVD. For more information about where to purchase head to
Paramount Home Entertainment.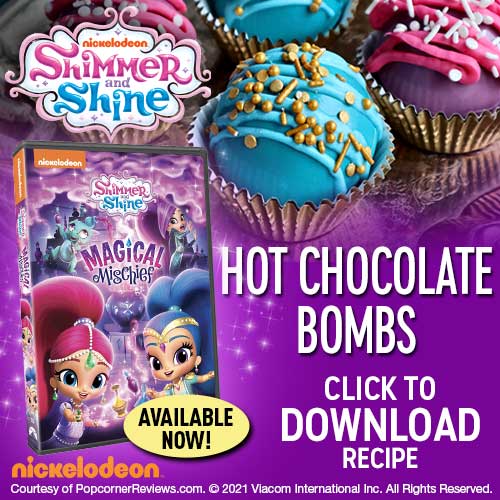 Disclosure: All opinions are my own. I received Shimmer and Shine: Magical Mischief on DVD at no cost for the purpose of this post. No other compensation was received.